Bir Nefes Yeter(One breath is enough). Starring Tuvana Turkay and Seckin Ozdemir, who are in my opinion a perfect couple.Yaman is a young ...
Bir Nefes Yeter(One breath is enough). Starring Tuvana Turkay and Seckin Ozdemir, who are in my opinion a perfect couple.Yaman is a young man who has given up from life. He doesnt hope, he doesnt want anything. On the other side Nefes is a sick girl,she has a terrible illness which is the reason for dying young. Destination makes plans and the two young guys fall in love with each other. A classic romange which will on cinemas at 13/10/17
Ilk Opucuk(First kiss) A romantic comedy which based on a dramatic story. Starring Ozge Gurel and Murat Yildirim who are as well a stunning couple. Its the turkish version of "50 first randevouz"The film narrate the story of a woman who has lost her memory and every morning doesnt remember anything of the last day. Hakan, the man who loves her will do everything for making her fall in love with him every single day. I'm waiting to see if the movie will be as successful as the american one.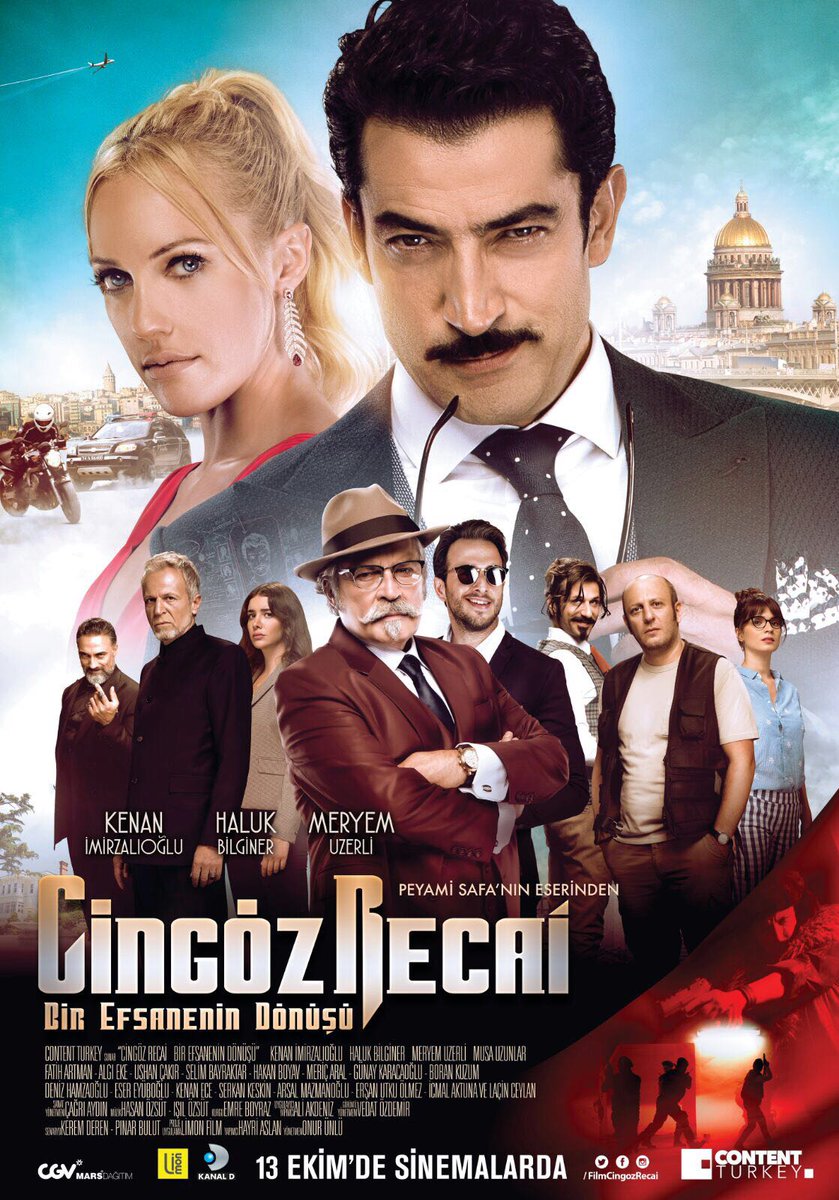 Cingoz Recai: The forthcoming movie will be without doubt a masterpiece. Cingoz Recai is the most popular character of crime novel. Kenan Imirzalioglu plays this kind thief who makes his come back in order to burgle the house of a famous genius! But his plans will be destroyed by a beautiful woman named Goze. As I said, starring Kenan Imirzalioglu,Meryem Uzerli,Haluk Bilginer,Musa Uzunlar and many other succesful names of the turkish cinema.The movie will be a different production and all of us we will watch it on cinemas at 13.10.17
Damat Takimi(Groom's crew) I cant describe my excitment about this movie! Its a comedy, starring Furkan Andic,Acelya Topaloglu,
Ozan Osmanpaşaoğlu, Pelin Akil..The story revolving aroung Yigit,Omer,Serdar,Can,Onar 5 friends since highschool. When one of the decide to get marry the other push him to have fun with them for only 5 days,for last time. The adventures which will live are going to change everything.!This October.
Babam(My father) is the name of Cetin Tekindor's new movie. And yes when we hear Cetin Tekindor we knw that is going to be a masterpiece. Starring us well Melisa Senolsun and Berker Guven. The story is about a father who dont want his son, a boy mentally disabled. I watched the trailer and my heart has broken already!
Ise yarar bir sey(something useful) Starring Basak Koklukaya,Oyku Karayel,Yigit Ozsener..The story is about two women who meet in a train during a traverl. The one is a lawyer and the other a doctor who goes to a disabled man because he asked for help in order to suicide. This movie make sense, and turkish society waits for it.
Oteki Tarah(Other side) Starring Meryem Uzerli,Ozcan Deniz and Asli Enver is something extremely different for turkish cinemas! Its going to be a thriller.